Home Staging for Sellers
---
What is Home Staging
Staging is preparing your home for sale, but in a process that includes cleaning, updating, organizing and rearranging things to look their very best.
Quite possibly, home staging has become the hottest trend in real estate these days. Those who advocate home staging say that sales for staged homes are faster and receive higher prices than similar homes that aren't staged. Anyone who has had their home on the market for weeks or months, or who has waited and wondered about a sale, would probably encourage any process that helps to sell the home faster.
Home staging can be as simple as making a few home repairs, removing accessories and unneeded belongings, packing in advance, and bringing in plants or flowers. It can also become quite complicated and could include rearranging or storing furniture, replacing outdated fixtures, windows or lights, and even repainting or recarpeting.
Your final goal is to show potential buyers the very best of your home. It doesn't matter if it's easy or complicated as long as it happens. Beware of inviting buyers to be distracted by clutter, dirt or even maintenance problems.
If you doubt that home staging can help sell a home faster, then consider this example. For those still in doubt about the importance of home staging, picture this:
You're shopping for a new home and the first home you visit is a model home. It's new, the furniture has been arranged to show off the size of the rooms, it's clean and it's even coordinated. Everything sparkles, especially bathrooms and the kitchen is clutter free. The garage is clean and looks very spacious. The closets are even organized.

Next you visit a home that is only one year old. The floor plan is the same, it's even made by the same builder, and the price is nearly $5000 less. However, the current owners have so much stuff that their possessions are packed from floor to ceiling. Every closet is full, every drawer is filled, and you can't even find the shelves. The kitchen and bathroom aren't really gross, but it's obvious they haven't been cleaned in several days, and in the dining room, the table is so large, you can't even walk around it. Although they have plants, they are all dead or in desperate need of watering. Not only can you smell that they have a dog, but you see that the paint near the floor has been badly scratched by what you guess is the same animal. Although they have a two car garage, it is filled with boxes, toys, and even holiday decorations. There's no room for even one car to be parked inside, let alone two.

It might be easy to guess that the model home, even with a higher price is going to sell about ten times faster than the home filled with clutter. Because of the cleanliness of the model home, as well as the "staging" to show buyers the features of the home and the spaciousness of the floor plan, the model home will definitely be the preferred one.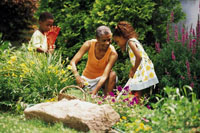 Most of us don't live our lives like a page from a home magazine and so it's important to remember that the way we live in our home and the way it should be presented to a potential buyer are two completely different things. Every home will seem larger if there are fewer furnishings. Remember that you don't want the home to appear sparse, but in a location where you currently have a sofa, loveseat and recliner, you might consider packing up everything but the sofa. You'll still be helping potential buyers visualize someone living there, without detracting from your home's features. Remember that you are not selling the possessions in the house, but the house itself.
Potential buyers will be seeing your home for the first time so do everything you can to see it through your eyes in that same way. Remember to find a way to view the best features of your home, rather than the contents.
Sell Your Home Faster
As you prepare to stage your home, keep in mind that you'll be packing up all of your belongings in order to move, so boxing up unnecessary items and clutter shouldn't be a problem at this point. Try to keep an objective point of view while rearranging and clearing things out. If needed, rent a storage unit for just a few months. You can not only fill it with clutter, but also holiday decorations, extra clothing, extra furniture (depending on it's size) and even lawn or yard equipment. Remember not to pack away anything you might need for the upkeep of the home until it sells.
If you think that it will be too difficult for you to determine on your own what needs to go and what should stay, consider either asking a friend for help or hiring a professional home stager. Ask around, get some referrals, and you will be able to find a professional the same way you would locate a photographer, caterer, etc. Some real estate firms even keep a list of professionals who do everything from repair to home staging to carpet cleaning. Check the firms in your area and see what information they have available for you.
Before deciding on someone, meet with several professionals to get an idea of who will work best for you. Find out what they are willing to do, what fees they have, how long it will take and when they can start. Ask for references as well as photos of homes that they have worked in and be sure to ask for ideas on what needs to be done in your home. You should also find out what they won't help with, as well as determine in writing who will handle what, such as the actual moving of furniture, etc.
Click Here
for more great staging ideas.
Don't forget to check out
Tips for Sellers
!
And be sure to make the outside look as great as the inside by following
Updating Your Home's Curb Appeal
.